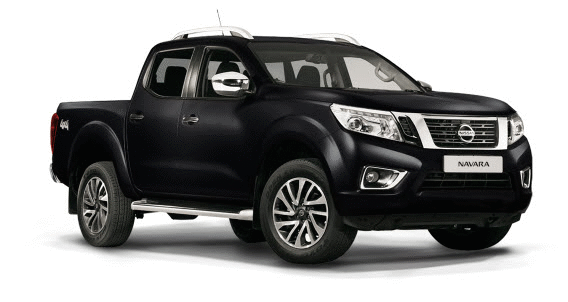 | | | |
| --- | --- | --- |
| | | |
R80 000 TRADE ASSIST

NOW WITH UP TO
NISSAN NAVARA
RUGGED REDEFINED
The all-new Nissan Navara merges the rugged strength of a bakkie with the comfort of a luxury SUV, to create a new kind of beast that's the best of both worlds. With a groundbreaking 5-link coil rear suspension system, the Navara redefines ride comfort and handling both on- and off-road.
A powerful twin-turbo diesel engine, pushing out 140kW and 450Nm of torque, coupled with the smoothness of an optional 7-speed automatic transmission, redefines the drivetrain for a more efficient and responsive drive. Even with a premium leather-clad cabin, the Navara loses none of its rugged credentials. Get behind the wheel, and feel what it means to be rugged, redefined.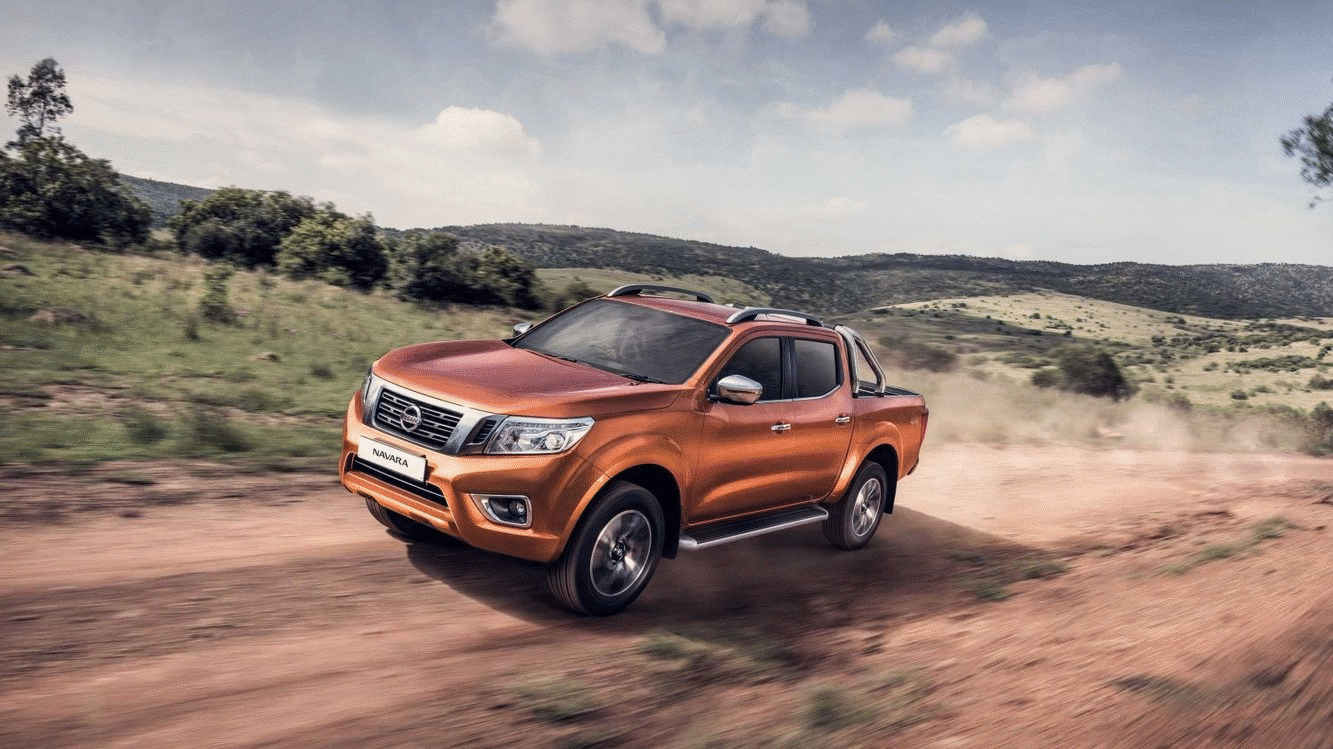 STILL GOING STRONG
MORE THAN 80 YEARS OF TOUGH
Nissan produced the first bakkie in 1935. With 14 MILLION NISSAN BAKKIE OWNERS blazing trails in 180 COUNTRIES around the world, our proud legacy of reliability and innovation continues today. As long as there's an adventure on the horizon, Nissan will take the lead.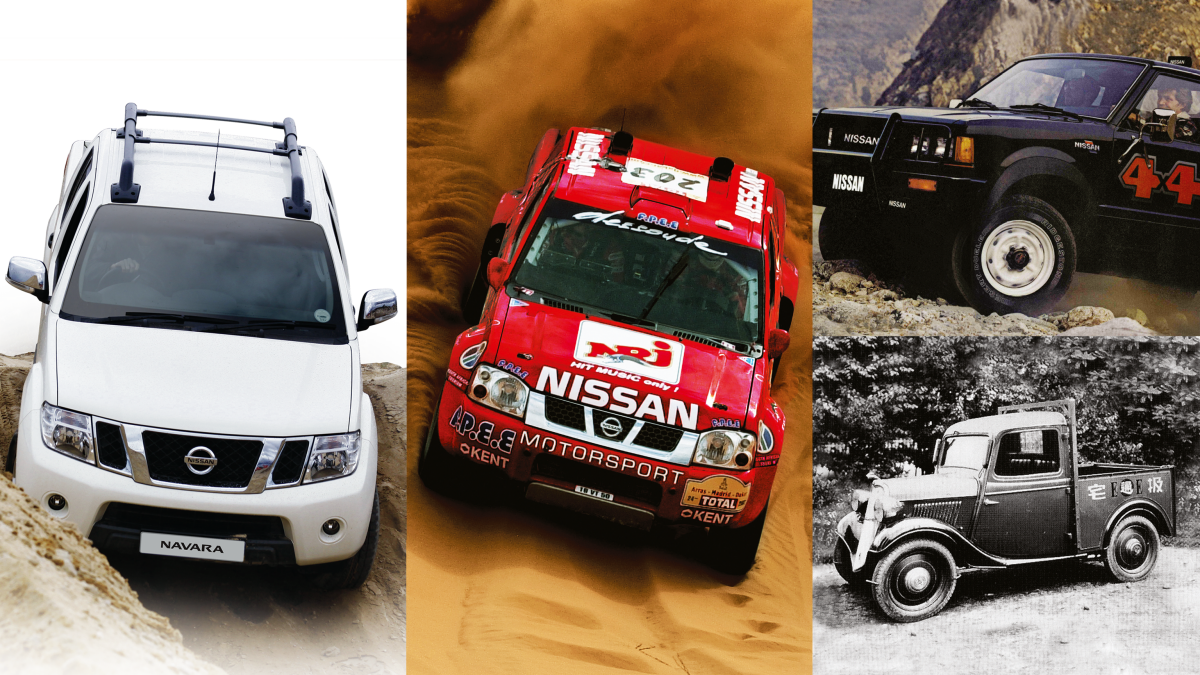 DEVOURS ROADS. SIPS FUEL
EXCEPTIONAL FUEL EFFICIENCY
The Nissan Navara shows how power, acceleration and fuel efficiency can not only coexist but thrive. Class-leading fuel efficiency is achieved by using low friction components, reduced mass, wide range gear transmissions and enhanced aerodynamics.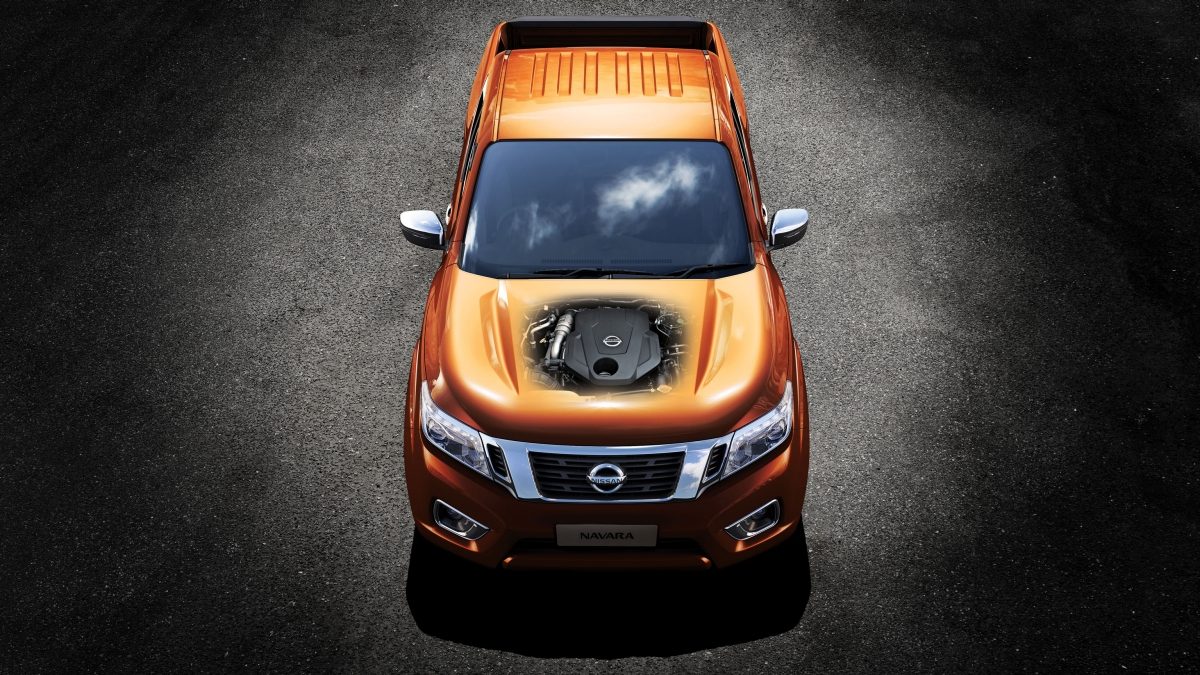 EXCEPTIONAL COMFORT
5-LINK COIL REAR SUSPENSION
| | |
| --- | --- |
| | The Nissan Navara is the first mainstream bakkie with a rear coil suspension similar to large SUVs. The heavy duty 5-link coil rear spring suspension versus the traditional rear leaf suspension offers exceptional comfort absorbing the bumps on and off-road. |
LOCK IN YOUR LOAD WITH
NISSAN'S INNOVATIVE UTILI-TRACK SYSTEM
| | |
| --- | --- |
| Ideal for securing any load, the innovative Utili-track tie down system consists of two channels, running the length of the bakkie bed walls. Heavy duty moveable cleats can be locked anywhere in special tie down points so you can position your load safely, securely and with ease. | |
WHAT WOULD YOU LIKE TO DO?
NISSAN FINANCE

Nissan, in partnership with WesBank, provides you with the expertise to assist you with all your finance and insurance needs.

CUSTOMER PROMISE

As part of the Nissan family you're guaranteed our commitment to customer care. A lasting bond between you, your vehicle and the Nissan brand. That's our promise.
---
DESIGN
TOUGH LOOKS WITH AN ATTITUDE TO MATCH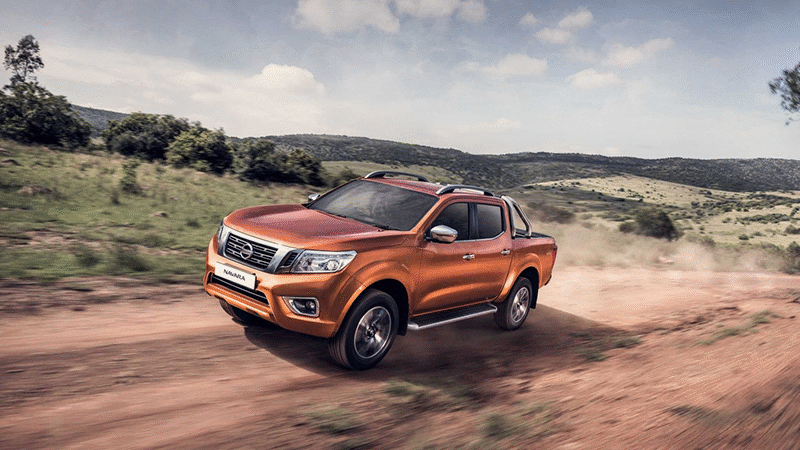 ---
RELIABILITY, REFINEMENT AND RUGGED GOOD LOOKS
EXTERIOR
The bold exterior design, sleek aerodynamic shape and distinctive LED lighting of the all-new Navaraproduce a striking visual impression, raising the bar for style in the bakkie segment. The signature V-motion grille flows into the hood through to the front fender, resulting in a smooth and dynamic character line. The V-motion motif continues in the tailgate section with a rear spoiler to further enhance the aerodynamics of the vehicle, all while maintaining Nissan's distinctive bakkie design DNA.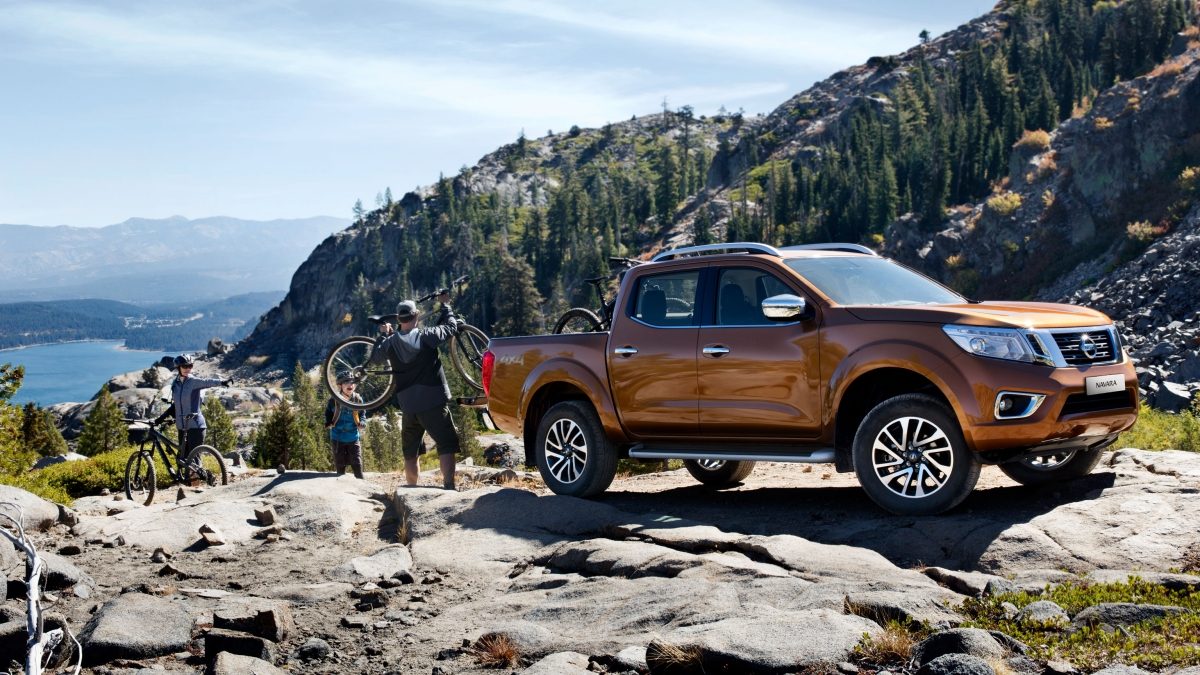 | | |
| --- | --- |
| | |
| With 3.5T braked towing capacity - the Nissan Navara delivers smart comfort and refinement while maintaining its acclaimed toughness with its off-road ability, durability and load capacity. | With confident, muscular looks - this is a bakkie that means business. The Nissan Navara integrates go anywhere driving capability with Nissan Crossover levels of comfort. |
---
RIDE FIRST CLASS EVERY DAY
INTERIOR
Comfort or innovation? Why not both? The Nissan Navara comes equipped with forward-hinged doors that offer easy entry into the comfortable, sedan-like rear seating. Once inside, driver and passengers will be impressed by the ample head and leg room. Convenient storage and cup holders, multiple 12-volt power outlets and modern entertainment options make the journey as much fun as the destination.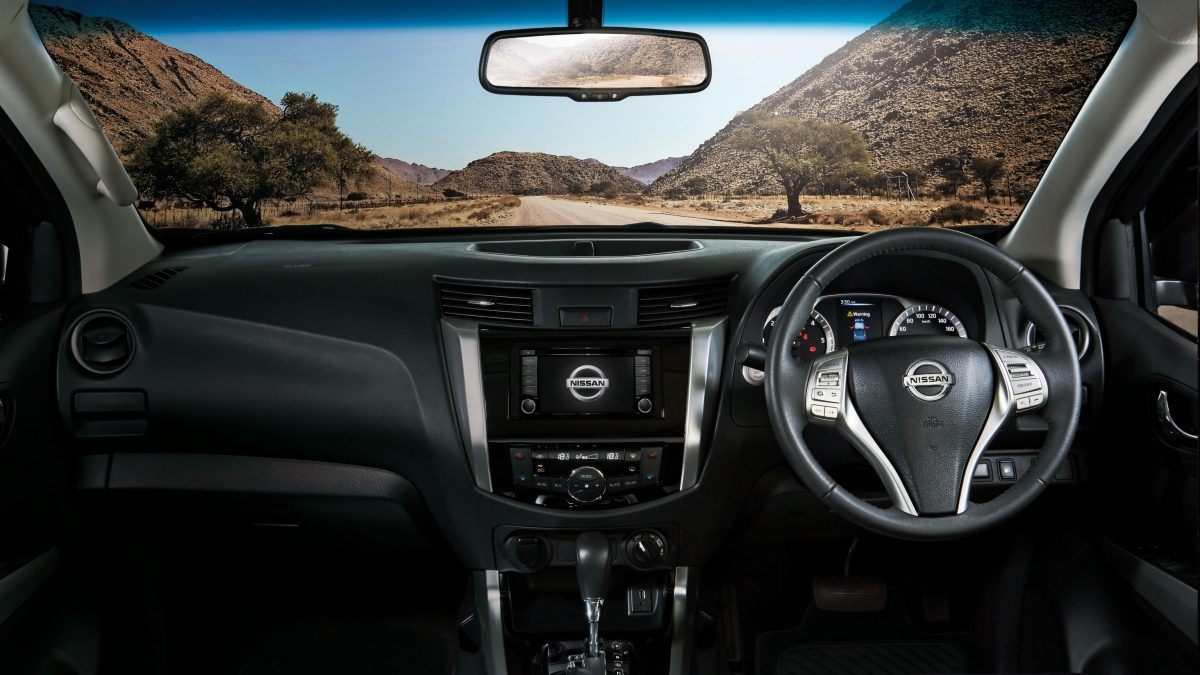 ---
MASTER YOUR DOMAIN
EXPECTATIONS EXCEEDED
All controls are in exactly the right spot for quick mastery of your environment. The sporty, leather-wrapped steering wheel with audio controls lets you operate cruise control and the audio system while your hands stay right where they should, and your focus on the road.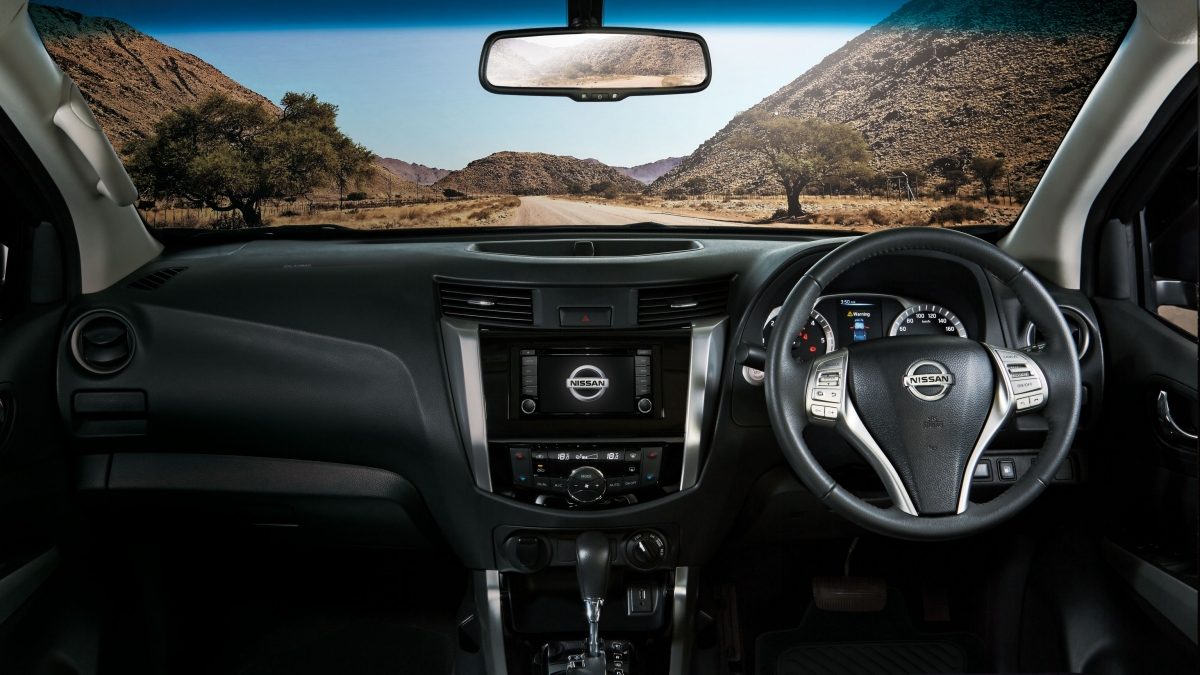 | | |
| --- | --- |
| | Your passengers in the back stay comfortable and relaxed thanks to rear air conditioning vents. And if you'd rather opt for a little fresh air, the power rear sliding window is just the push of a button away. |
---
NISSAN'S INNOVATIVE UTILI-TRACK SYSTEM
LOAD UP WITH VERSATILITY
The Nissan Navara is engineered to handle tough jobs and heavy payloads, be it for work or play. A lighter tailgate makes loading and unloading simple. Nissan's revolutionary Utili-Track tie down system ensures all your cargo is secure, with movable cleats that can be locked anywhere in special tracks allowing you to tie down any load, of any shape or size with ease.
The load box of the Nissan Navara stretches to a length of 1,503mm and a 1,560mm width. There's tons of space for construction supplies or mountain bikes for a weekend getaway.
---
ACCESSORIES
NISSAN APPROVED
Nissan's Approved Accessories are designed and manufactured to fit the Nissan Navara to ensure optimal performance in support of your vehicle warranty.
TESTED

APPROVED.

Our core styling items have been engineered, tested and approved by Nissan's Global design centre.

Fitting accessories from Nissan approved dealerships maintains the vehicle's safety and integrity ensuring there is no affect on the 6-year / 150 000 km warranty
---
FEATURES
HELPING YOU STAY CONNECTED, COMFORTABLE AND SAFE
AUDIO SYSTEM PLUS NAVIGATION
NAVIGATION SYSTEM COMES STANDARD
The New Navara comes equipped with an audio system that features RDS, USB functionality, Bluetooth with audio streaming, all as standard. The system also features a reverse camera and navigation system with 3D mapping and live traffic updates - all easily accessible from your steering wheel. Navigation system comes standard on all new Navara models.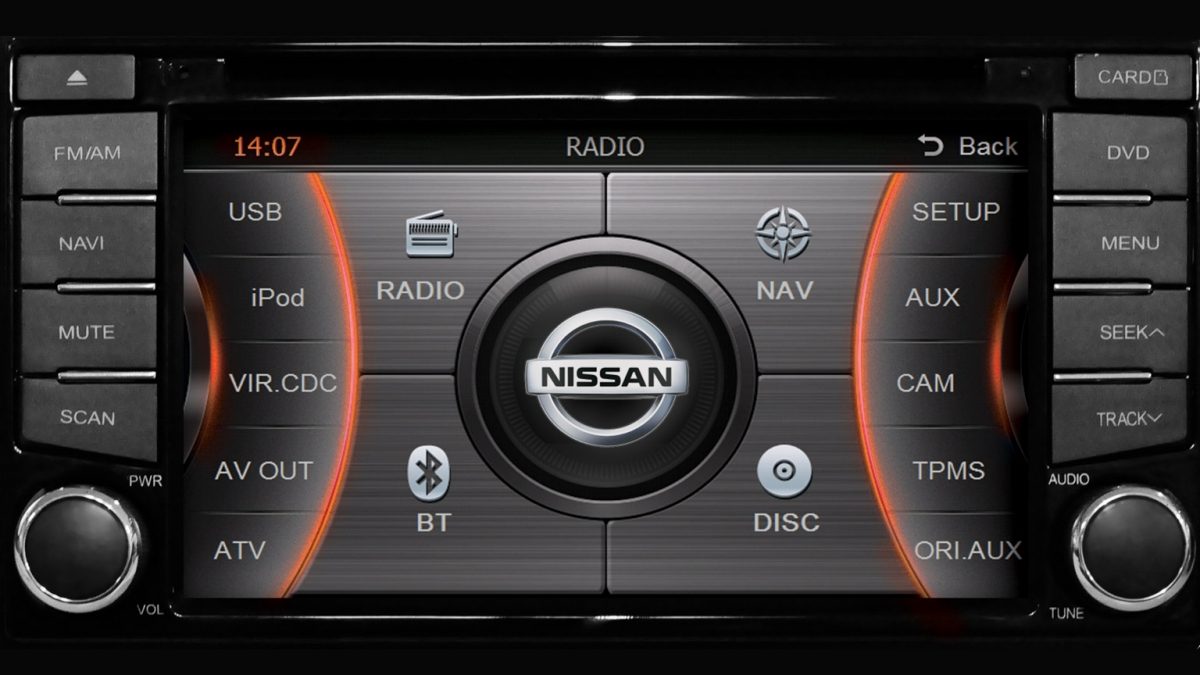 LICENSE TO LISTEN

Listen to what you want, when you want. The new Navara comes equipped with a USB port, auxiliary input and Bluetooth streaming giving you all kinds of possibilities - enabling you to stay connected
---
CONVENIENT TECH
INTELLIGENT FEATURES
Who says a bakkie can't have a high IQ? The new Navara features a host of convenient technologies that will get you on your way with the simple push of a button, helping to keep your attention focused on the drive ahead.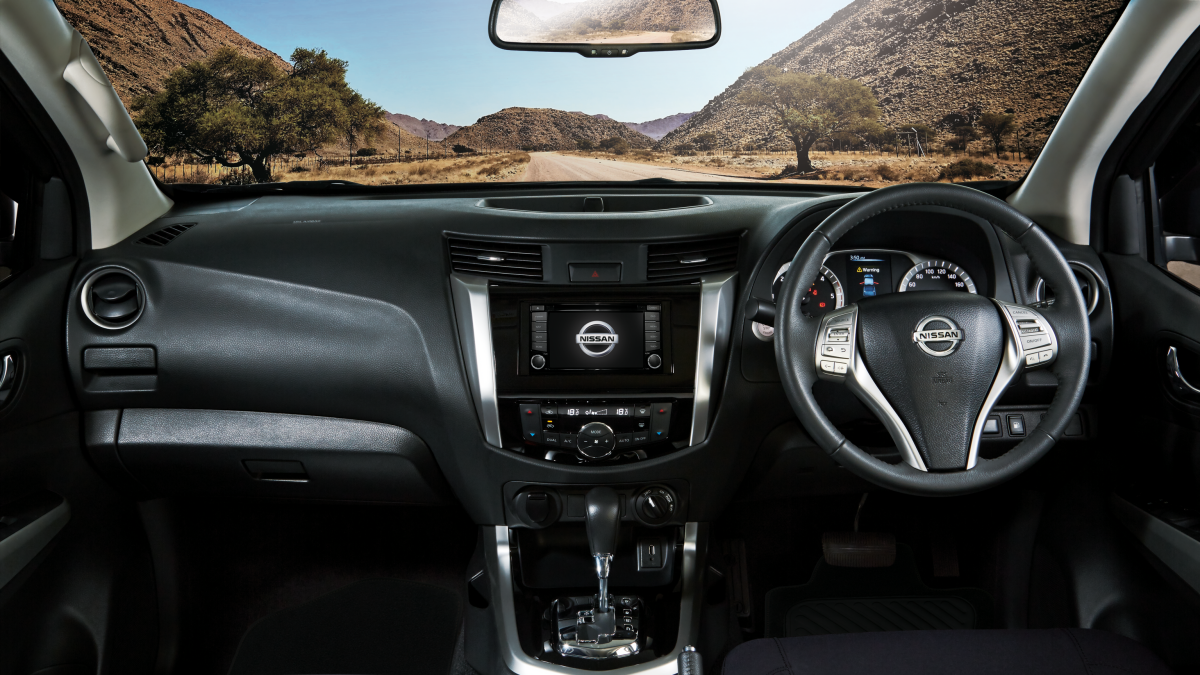 MORE POWER IN HAND

The sporty, leather-wrapped steering wheel features a variety of intuitive controls. Select your music, take phone calls, change information displays and adjust the cruise control, all while keeping your hands on the steering wheel.
---
INFO WHERE YOU NEED IT
ADVANCED DRIVE-ASSIST DISPLAY
The Nissan advanced drive-assist display serves up all the driving information you need in one place. From fuel economy to song track, the intuitive 3D depth and tilt design lets you take it all in at a glance to keep your eyes focused on the road.
GO THE DISTANCE
Activate the trip distance display to see how far you've travelled in how much time. It can help keep tabs on how much further you need to go when you need to take a break

KEEP TRACK OF SPEED
Helping to maximise fuel efficient driving on long trips, the average speed display tells what you've averaged over the course of drive time

FUEL MINI-MISER
Not only will the average fuel-economy display help you adjust your driving style for maximum fuel economy, its helpful information also aids in monitoring the overall health of your vehicle.

GET PUSHY

No more fumbling for keys. With the Nissan Intelligent Key with start/stop button, you can unlock the front doors, start the engine and drive away — all while your keys stay tucked in your pocket or bag.

*Only available on LE models
---
WHEN TOUCH GETS PREMIUM
REDEFINED IN ALL THE RIGHT WAYS
Step into the interior of the next-generation bakkie, where refinement and technology go hand in hand. Astronaut-inspired zero gravity seats create neutral posture and improved blood flow to help make those long rides a lot more comfortable. Plus, Dual Zone Climate Control means you and your passengers can each keep things as cool or warm as you like. The circular side vents pinpoint exactly where you want the air to go - which helps out everyone on board, including rear passengers who have their own vents and driver controlled access to a rear power sliding window at the back - unique feature in the local bakkie segment. The LE grade comes with optional leather seats with 8-way power control and seat heat function.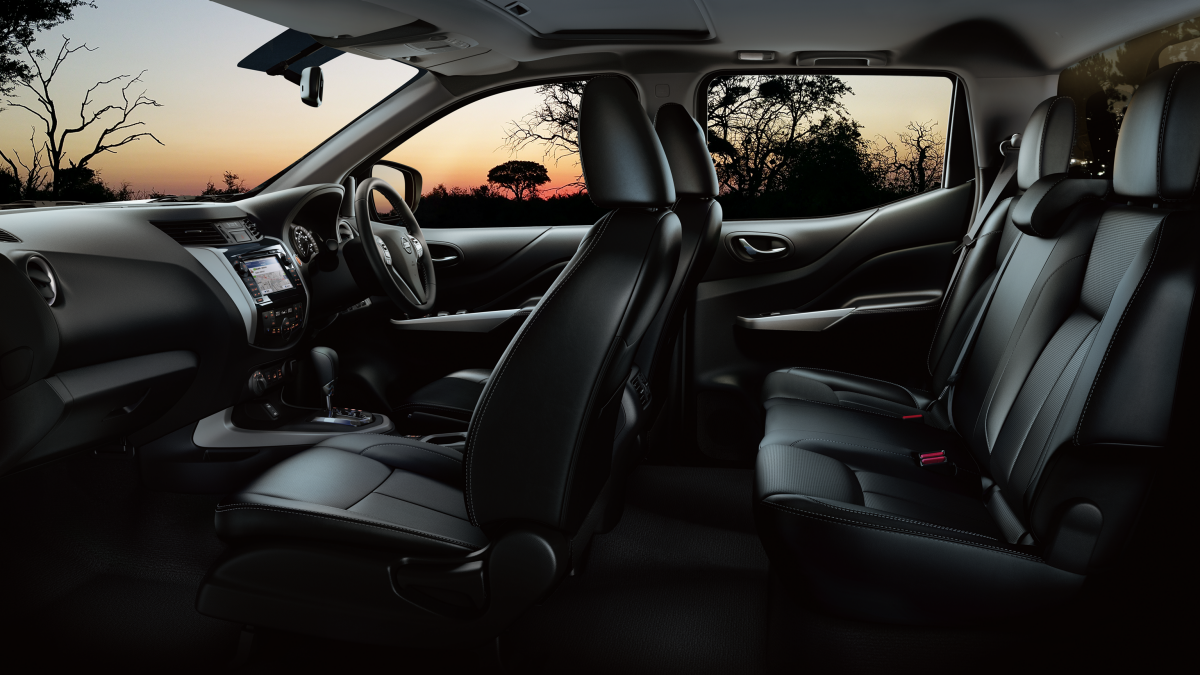 EXPERIENCE WEIGHTLESS COMFORT

Inspired by your weightless posture in zero-gravity space, the spinal-support driver seat offers continuous support from the pelvis to the chest, along with seat cushions that flex in response to your unique pressure points. The result is a seat that's amazingly comfortable and helps reduce fatigue.

THE PERFECT SETTINGS

Whether you prefer desert heat or an arctic chill, the dual-zone climate control system with Automatic Temperature Control lets you and your passenger set your own climates.

PEACE OF MIND

One less thing to think about when you leave or return home. The automatic on/off head lamps light up when you start off. And if the head lamps are left on after you've left the vehicle, they'll automatically turn off for you.

MORE THAN A PRETTY FACE

There's a lot more to the LED Daytime Running Lights than a stylish design. These brilliant lights also allow others to see your vehicle better on the road both during the day and in the evening.

SMART MIRROR

The convenient auto-dimming rearview mirror not only helps reduce glare from behind, it also features an outside temperature display and digital compass.

BACKWARDS BREEZE

A unique feature in the local bakkie segment - the rear air conditioning vents of the new Navara distribute cooled air to the passengers in the row behind, helping keep everyone comfy.
---
KEEP IT UNDER WRAPS
THE NEVER ENDING STORAGE
A thoughtfully designed, flexible interior with lots of storage is as important for work as it is for play. Find a spot for your belongings underneath the rear passenger seats, in the side pockets, and inside the generous glove compartment. Riding up front with you, the deep centre console keeps your items secure and out of site.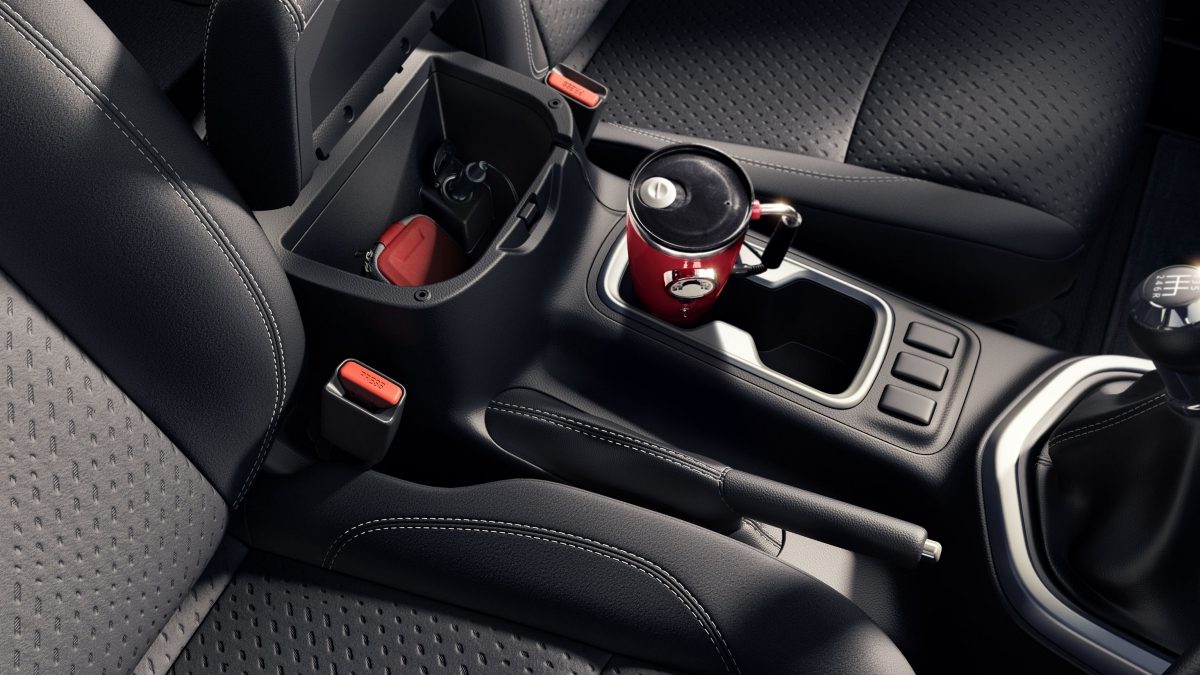 THE LOW DOWN ON STORAGE
Oversized pockets located in the driver and passenger doors offer easy access to books, folders or tablet computer. It's also the perfect place to store an extra water bottle for thirsty days.

GEAR GOES HERE
When you need a place to store medium-to large-size equipment, just take a look under the rear seats. Hidden away under them are generous storage compartments that are easily accessible at a moment's notice.

STASH IT AWAY
The high-capacity glove compartment is large enough to hold and hide all your personal belongings out of sight

---
PROTECT, RESPOND , MONITOR.
SURROUND YOURSELF WITH CONFIDENCE
Wouldn't it be smart if you had the confidence you need for every part of your drive? The Nissan Safety Shield is a comprehensive approach to safety that guides the engineering and development of every vehicle we make. The features described here are just some of many on your Nissan Navara, helping to protect you and yours by focusing on three key areas: keeping an eye on your vehicle's systems and the surroundings, assisting in handling unexpected situations, and helping to keep you safe in the unfortunate event of an accident.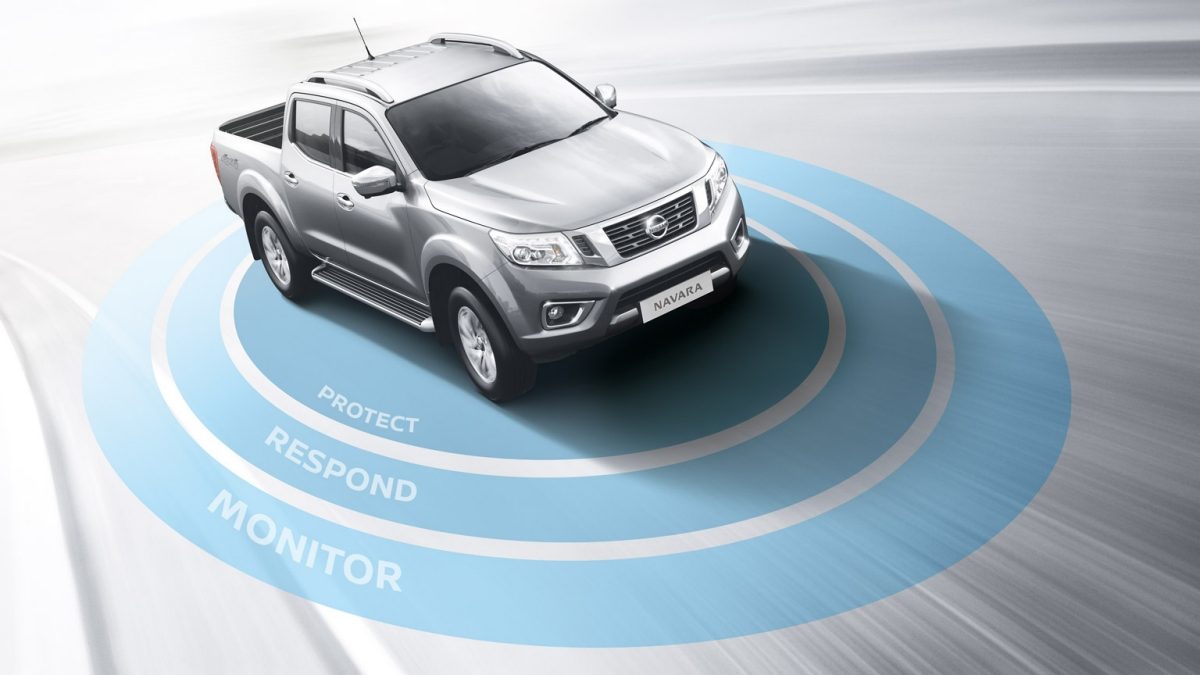 7 AIRBAGS STANDARD

With 7 airbags in total - The Nissan Navara surrounds driver and passenger with supplemental airbags in the front, two side-impact air bags mounted in the front seats, two side-impact curtain air bags mounted in the roof and a driver knee airbag.

SECURITY STOPS HERE

An engine immobiliser helps prevent unauthorised driving by disabling the engine unless your electronically coded key is in the ignition. That way, you know your vehicle will be waiting right were you last parked it
VEHICLE DYNAMIC CONTROL (VDC)

VDC monitors your steering, braking and the vehicle's stability and , if needed, will reduce engine output and apply brake pressure to specific wheels in order to keep you on your intended path


ANTI-LOCK BRAKING SYSTEM (ABS)

ABS prevents the wheels from locking under hard braking, allowing you to stop quicker and at the same time, steer around obstacles


TRACTION CONTROL SYSTEM (TCS)

TCS helps you keep a better grip on the road. It senses when a drive wheel starts to slip and reduces engine power or applies brake pressure to help restore traction.


ELECTRONIC BRAKE FORCE DISTRIBUTION (EBD)

EBD automatically sends extra force to the rear brakes when it detects there's additional weight in the back

---
PERFORMANCE
ENGINEERED TO EXCEL ON THE ROAD OR OFF
---

EXCEPTIONAL COMFORT
SUPERIOR HANDLING
The Nissan Navara is the first mainstream bakkie with a coil rear suspension similar to large SUVs. The heavy-duty 5-link coil rear suspension versus the traditional rear leaf suspension offers exceptional ride comfort, absorbing the bumps on and off-road. In addition, the high lateral rigidity with springs, stabiliser and dampers tuned for optimum performance improves steering properties for superior handling and cornering ability on gravel and tar.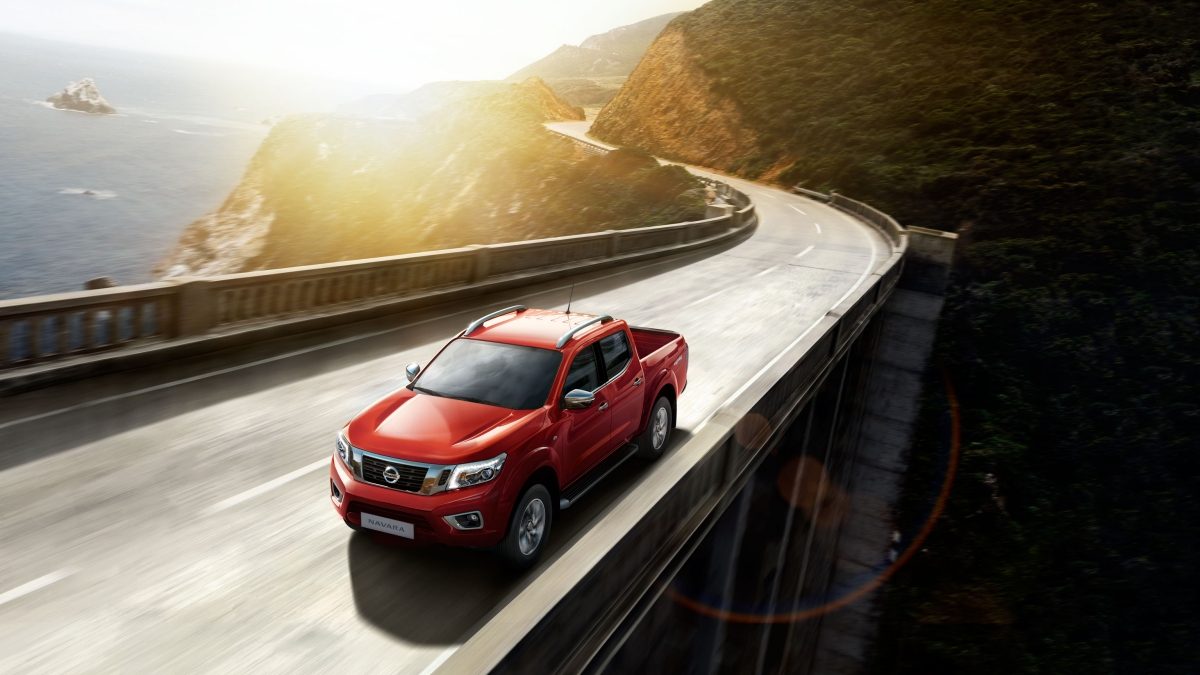 ---

DEVOURS ROAD, SIPS FUEL
PERFORMANCE EXTRACTOR